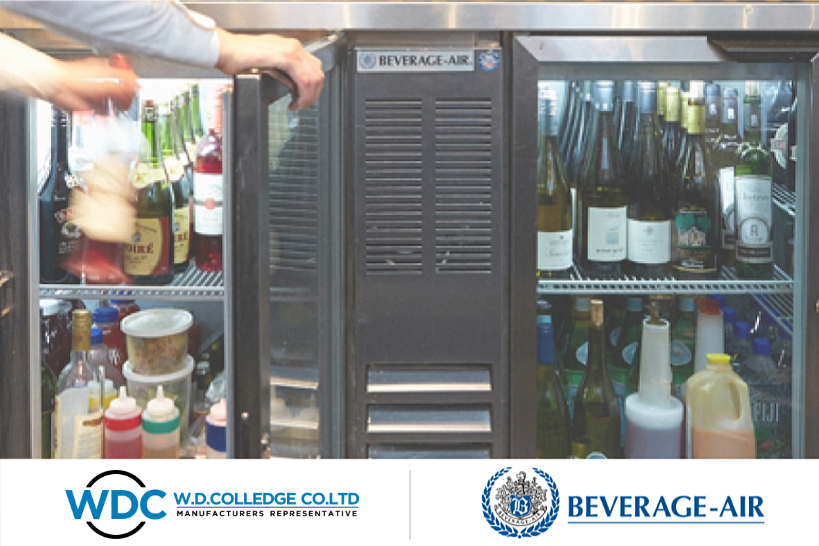 Beverage Air is soaring through commercial kitchens in Canada, since they offer a range of products and equipment designed to revolutionize these kitchens.

Who is Beverage Air?
A manufacturer who has been in the commercial industry for nearly seventy years, Beverage Air has a focus on the needs of their commercial clients and designing products that will maintain the quality of their products during the storing and refrigeration of ingredients and completed dishes. In addition to offering high-quality to their customers, Beverage Air maintains a level of ethics with their customers (and themselves) to manufacture only the best in quality and efficiency. Many of their products have the ability to serve as multi-functional and can be found below.
Leading in Refrigeration.
All of Beverage Air products are surrounded in refrigeration and offering options to house different ingredients. Proper refrigeration is essential for both uncooked and cooked food that requires a cooler temperature. Their customization of their refrigerators and freezers allow diversity among their clients. Below are some of the highest grade equipment in Beverage Air refrigeration:
Top-Mount Reach-Ins
Bottom-Mount Reach-Ins
Spec Line
Open Air Merchandisers
Glass Door Merchandisers
Food Prep Tables
Dipping Cabinets
Novelty Cases
Wine & Bar Equipment
Chef Bases
The needs of each kitchen varies based upon their clientele and the dishes they are serving regularly. Despite these differences, maintaining quality refrigeration of ingredients is expected. Offering a vast selection of products opens up their products to everyone pursuing a commercial kitchen of any size and customer capacity. Many Canadian commercial kitchens that have limitations due to space are able to utilize high quality commercial refrigeration.
Embrace Energy-Efficiency
As Beverage Air continues to revolutionize refrigeration units across Canada, they also embrace energy-efficient options that will help with your kitchen budget. These products that are offered are ENERGY STAR compliant, exceeding guidelines for conserving energy. Operating a large number of appliances in your commercial kitchen means that you are utilizing significant amounts of energy daily. Purchasing appliances and equipment that reduces that number, while maintaining their expected operations, are imperative purchases for Canadian kitchens.
Product Customization
The manufacturers at Beverage Air understand that most kitchens are not the same in size, work space, and layout. Because of these differences found across the Canadian country, they allow their customers to utilize product customization and specifications to fit their kitchen needs. In many of the offered products, clients can choose from either stainless steel or glass to fit their current kitchen look and services offered.
Maintenance is Minimal
With new innovation comes the need to minimize the maintenance on your coolers, making them accessible and convenient. With a removal cartridge that can be easily replaced, there is no need to empty your cooler to access the compressor and condenser for the regularly scheduled maintenance, minimizing service disruption.
There is also a reduction in the number of parts for Beverage Air products. Many customers over the years have encourages new designs to offer less parts for cleaning and maintaining, simplifying the products for a more efficient service.
Let Your Commercial Kitchen Soar with Beverage Air
Efficiency, energy management, and convenience are all essential qualities to choosing products for any commercial kitchen. These products are investments into your commercial kitchen, and any new purchase should be evaluated. The ability to customize these products is a critical feature for kitchens with unique needs or space requirements.
Beverage Air continues to develop products that are leading in technology and innovation without the unnecessary complexity.
We would love to show you how Beverage Air can fit into your kitchen.Schedule a free foodservice equipment assessment to learn more.
---