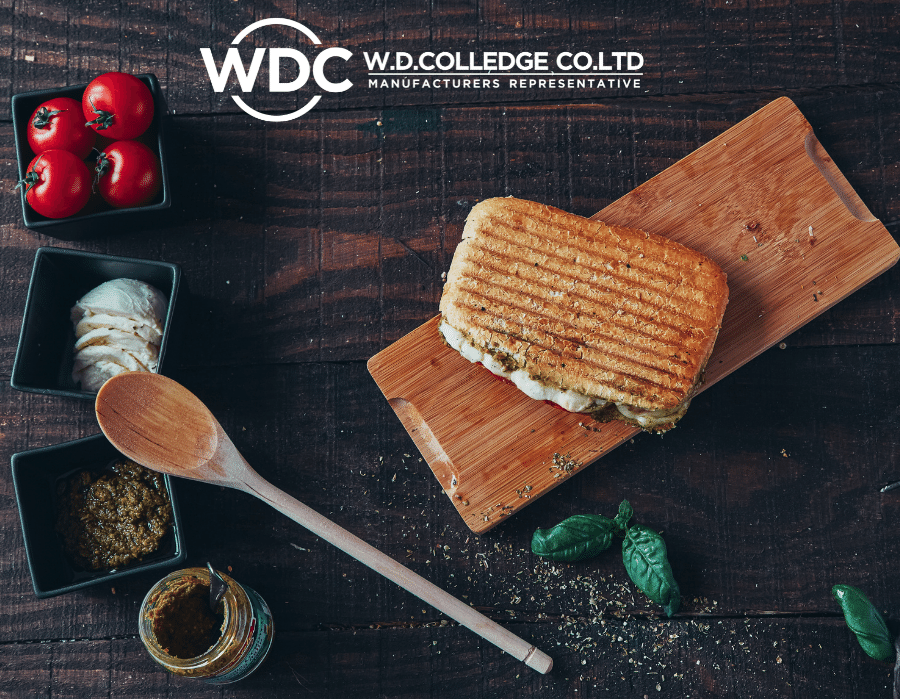 The taste and flavours that come through with a panini are the reasons it is in high demand. With an Equipex, you can make the perfect panini and in a variety of options for your diners. You can choose from various protein options with your panini - or offer a vegetarian option for everyone to enjoy.
Let's Get That BBT!
Made with bocconcini cheese, basil, and tomatoes, this panini gives a fresh Italian flavour to every bite. For each sandwich, you need the following:
Ciabatta in 1/2 inch thickness (1 piece, sliced in half)
Fresh bocconcini mozzarella in 1/4 cuts
Thin-sliced tomatoes
Julienne sliced basil leaves
Balsamic vinegar
Garlic oil
Use your garlic oil to coat one side of the ciabatta bread. When preparing these paninis, make sure the bread is sliced and start building each panini. The bocconcini mozzarella lays the first layer across the bread, then top with tomato slices. Finish the panini with basil leaves, and then one or two splashed balsamic vinegar.
Close and lay your BBT on the Equipex and do a gentle press. After two minutes, allow the top of the Equipex to raise and remove the sandwich!
Party With the Panini Club
One of the most popular paninis you can offer your diners is the fresh Panini Club. It is a favorite and just as easy to make and serve with two rotisserie chicken and bacon proteins.
French baguette bread
Olive mayo
Strips of rotisserie chicken
Sliced tomatoes
Cooked bacon strips
Take your French baguette and cut it equally into two slices for the panini. Choose just one slice and add the olive mayo for full flavor. Dress your salad with the proteins first, chicken, then bacon, and finishing off with the tomato slices.
Have your Equipex set at 200 degrees and gently start to press the sandwich. Allow 2 minutes to cook the sandwich through and then ease up the top of the grill.
Class Your Panini Options Up With Smoked Turkey, Gruyere & Roasted Pepper
For those who want a more sophisticated taste tucked into a panini, Smoked Turkey, Gruyere, and Roasted Pepper Panini are suitable for these diners.
Ciabatta bread at 1/2 inch slices
Olive mayo
Smoked turkey breast slices
Gruyere cheese
Julienned roasted peppers
Dress your bread on one side with the olive mayo and then go in and make the sandwich slices. Once your bread is prepared, it is time to dress this panini again. Start with your turkey slices, then your gruyere slices so that they are creamy in the middle. Finish the panini layering with the roasted peppers before closing the sandwich.
Let your Equipex do the work with a 200-degree grill, gently lowered onto the panini. With 2 minutes as the particular time, make sure you let it cook through and then lift and enjoy.
The SAV-G-PALI Panini Press Is The Way To Go
For kitchens that spend a lot of time making paninis and offering them daily, you need equipment designed for it specifically. The SAV-G-PALI keeps the quality of the panini in mind by allowing enough room for the panini of any size to be pressed and done so efficiently. It is easy to clean and keep the cooking going so that you always have a clean grill for each panini. They also fit conveniently on the counter in your kitchen, reducing space, and can be moved to accommodate your space needs.
See It For Yourself:
Do you know a local place that has the best panini? We challenge you to try the ones out of the W.D. Colledge test kitchen.Schedule a free assessment and connect with a team member today!