Like most industries across the globe, food service has changed drastically in the last year. With in-person dining on hold, Canadian restaurants have experienced an influx in the demand for carryout and takeout orders.

According to a recent report from the Agri-Food Analytics Lab, 45.5% of Canadians are ordering food online at least once per week. This increase of over 15% in six months has caused restaurants to rethink their strategies in order to meet the demand of their customers. The following Metro products are the perfect solutions for leveling up your takeout and carryout game.
Hot Stations
As takeout demand increases, restaurants must ramp up their speed and efficiency. Metro2Go Hot Stations are a takeout game changer. Each Hot Station is composed of temperature-controlled shelves with individual thermostats and power switches. This allows you to safely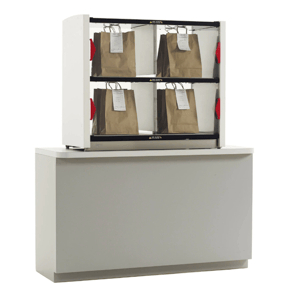 prepare and hold food until a customer arrives for pickup. The sliding polycarbonate doors contain heat and help keep food warm until the customer arrives.
With affordable Hot Stations in place, restaurants are able to reduce labor costs and ensure that their customers' food is hot and ready. The self-serve nature of Hot Stations makes it easy for customers to conveniently grab their food without having to wait in line for service. Because of this, restaurants can increase efficiency and speed by utilizing hot stations without the demand for more labor.
See it:
Utility Carts
Let's be honest, utility carts are the workhorses of restaurant kitchens. Metro's deep ledge utility carts are the toughest carts on the market and they're up for the challenge of a busy kitchen. Each polymer shelf is corrosion proof and impact resistant and the smooth surface will make cleanup a breeze - because who has time for tough stains? The 70mm deep ledge keeps those carefully crafted dishes from spilling and the additional legroom keeps you from hitting your shins as you rush across the kitchen.
The deep ledge utility carts come in two and three shelf designs and are available in a variety of colors. As an extra bonus, the blue models contain Microban antimicrobial product protection. With an increase in takeout demand, these deep ledge utility carts will allow you to move safely and efficiently in the kitchen. And with several color and shelf designs available, you can push them around in style.
Easy Order Application Kits
With demand for takeout and delivery on the rise, it's important to keep your kitchen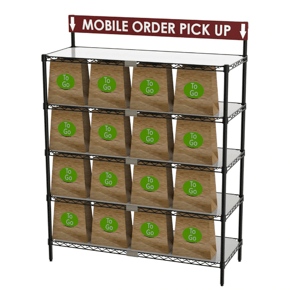 organized. Metro's Easy Order Application Kits are designed with efficiency in mind. Equip your kitchen with a To-Go Wire Pickup Shelving Workstation for a seamless carryout order process. The simple, sturdy design makes it easy to organize orders and get them to customers quickly. This shelving unit comes with a sign and labels that make it easy to organize your workstation for carryout orders.
For restaurants that offer drive-thru pickup, Metro's Drive-Thru Station is a game changer. These wire shelving units make it easy to have everything in one place so your employees can quickly hand off orders and keep the line moving. Additionally, the Condiment Tower is the perfect place to organize your ketchup, mustard and plastic ware for customers to grab and go. Each Easy Order Application Kit is designed with organization and easy cleanup in mind. You'll have no trouble keeping these stainless steel shelving units squeaky clean.
Learn more about how Metro can help take your takeout and carryout service to the next level. Let's set up an action plan to maximize your space and profits: