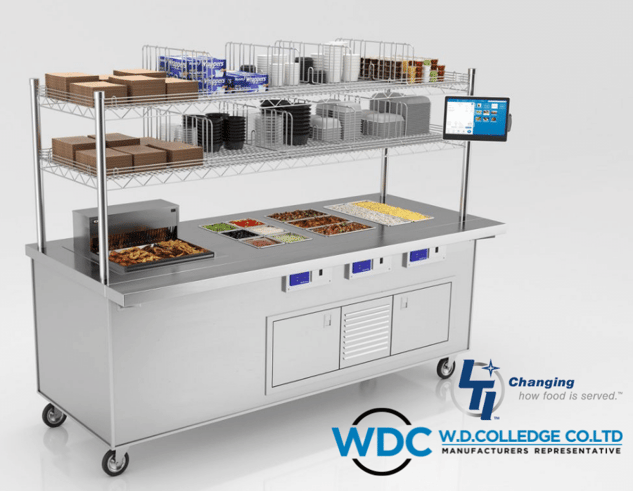 Low Temp Industries (LTI) is an industry leader in design and innovation custom counters for commercial applications. The company builds sophisticated mechanical foodservice technologies which enable businesses in the hospitality space to display and serve their various menu options.
LTI provides businesses with turnkey solutions that give their servers energy-efficient, flexible, and convertible technologies married to beautiful and well-crafted millwork, all expertly installed by the company's friendly and skilled team.
Quickswitch Hot and Cold Drop-In Food Wells
Quickswitch is LTI's patented serving technology and is the first of its kind - offering businesses the ultimate in merchandising options and menu flexibility.
With Quickswitch, you can control every countertop serving well to be cold, hot, or frozen. Whether you are serving soup, pasta, a made-to-order salad, or whatever else your latest menu requires, LTI's Quickswitch makes all of your offerings accessible and visible.
The standard features of the Quickswitch range include:
Full sealing gasket
Individual solid-state digital controls
500 watts heat source (at 208V)
Manifold drains
Single power source
Hugged edge
Slimline configuration
Each food well has independent controls and can switch mode from cold, hot, and frozen in less than an hour. The high-tech digital controller allows you to fine-tune each mode:
Cold: There are three settings available between -3° and 5°
Hot: You could run it either wet or dry
Freeze: The well maintains a temperature of -12°C
Quickswitch's drop-in food wells are flexible, available in 1 – 4 well units. LTI also offers a 2-year labor and parts warranty, giving you total peace of mind.
See it for yourself:
A History of LTI
In 1947, North Carolinian William B. Casey founded Low Temp Manufacturing Company. William had left the family sawmill business to try out a different line of work. Casey was joined in the new venture by Ed Rawls, his brother-in-law, and sister Polly, who owned Atlanta's Refrigeration Exchange Company.
Casey founded Low Temp Manufacturing Company along with his sister Bertha Hammonds. In its first year of operation, the company had only five employees and managed to profit $51.52. Shortly after Low Temp's launch, Low Temp moved from its Pryor Street location to its current home in Jonesboro.
A fire destroyed the Low Temp plant in 1958, almost ending the growing company. Nonetheless, Low Temp continued its operations with a reduced workforce that mainly consisted of family members and a few loyal employees. With the team working out of the basement of a grocery store in Jonesboro, the company survived and thrived.
In 1959, the company built and moved into a new facility at 9192 Tara Boulevard. After that, William Casey became Low Temp's CEO and President, holding the position until he died in 1994.
Why Choose an LTI Product?
Low Temp Industries has solutions designed to enhance the display of your food and drink offerings while helping you to have more effective merchandising opportunities. What's more, LTI has the expertise and experience to provide innovative foodservice solutions and build whatever your business requires to meet its goals.
The company has an extensive range of products, including custom and modular service counters, interior decor, and sophisticated serving technologies. LTI uses the latest scientific methods to develop technology that makes the operator's job of serving customers faster, more straightforward, and more practical.
In Low Temp Industries' state-of-the-art factory, a team of skilled and dedicated staff works hard every day to develop the technology to make your job simpler. Whether you need cutting-edge functionality, durable construction, or sleek design that makes the LTI products so popular with thousands of food and beverage service businesses, Low Temp Industries has all your needs covered.
Are you interested in a one-on-one kitchen assessment? Click the image below to learn more.